Introduction of Fruit Pomace Dryer:
The fruit pomace dryers are applied to drying all kinds of pomace (apple skin, pear slag, tomato slag, etc.), monosodium glutamate thalli protein, sugar beet, citric acid tail liquid, corn starch, citric acid, protein powder, liquid mycelium, antibiotics (penicillin liquid, terramycin medical), etc. Pomace (slag of apples, oranges, grapes, etc.) is a kind of material with internal water, not easy to dry. The traditional dryer based on the physical characteristics of pomace does not have good drying effect. The pomace dryer we produce adopts the counterflow drying, one-time to dry the moisture below 12%, and pomace after drying has good color, no paste and no loss of nutrition.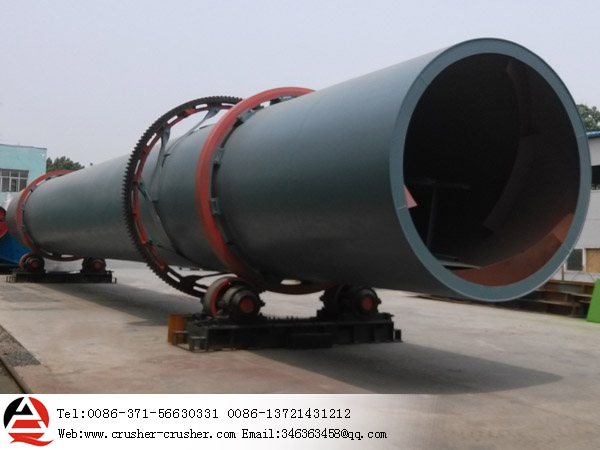 Structure of Fruit Pomace Dryer:
Fruit pomace dryer is mainly composed of roller broken drying machine, furnace, feed screw, a screw, pipelines, dust catcher, air lock, induced draft fan, control cabinet, etc.
Working Principle of Fruit Pomace Dryer:
Pomace is fed into the pomace dryer directly by the feed screw, lifted and dropped by the lifters, and scattered after being crushed by crushing device. The pomace has very good contact with the negative pressure of high temperature medium, completing the process of heat and mass transfer. Due to the effect of inclination angle and draft wind, the material moves slowly from the feed to the end, and dried by discharging screw discharge, exhaust through the dust, the atmosphere.
Characteristics of Fruit Pomace Dryer:
1. Pomace dryers have the advantages of advanced technology, high temperature drying process, big heat transfer co efficiency, high thermal efficiency, large intensity of drying.
2. The pomace dryer adopts the combination of high speed stirring drying and air drying technology, viscous material can be fully dispersed, greatly improving the material and the contact area of heat medium, is advantageous to the drying process.
3. The pomace dryer adopts special scraper device, avoid the phenomenon of wall material viscosity.
4. The pomace dryers adaptation range, simple operation and small amount of maintenance, stable product quality.
5. The pomace dryer is specially designed for drying slag materials, whose rotating blade angle is variable, rotation speedadjustable